Skip to Content
Military & First Responders
MaxPAC®
Military / First Responders
Military-Level MaxPAC® Strength Training Protocols provide Peak Power, Heavy-Loaded Upper Body, Intense Core, and intense "Grip Strength" workouts that increase your agility and ability to "Mobilize Muscles and BE MISSION READY"!
It was one of my most incredible and humbling experiences of my life to be invited as a contracted vendor to bring The MaxPAC® to The Pentagon, and into the Pentagon Athletic Center" (PAC). It is an incredible honor to have The MaxPAC® in the PAC! It was thrilling to share my MaxPAC® Military-Level Training with them, to add to their existing protocols to "PASS their PT TESTS"! On one of my visits, I was invited by an Air Force Major to observe his team taking their PT test and share my thoughts on their performance! WOW! What an honor!!
I have had the pleasure and the privilege to meet so many officers and service personnel: The Pentagon Security Force Directorate, Deputy Director of Health and Wellness of the State Department, Director of the Defense Sciences Board, Marine and Naval Strategists, and hundreds of active-duty men and women. They, plus many other employees of The Pentagon use The MaxPAC® for their own personal training regimen. I have made amazing friends! I am forever Grateful.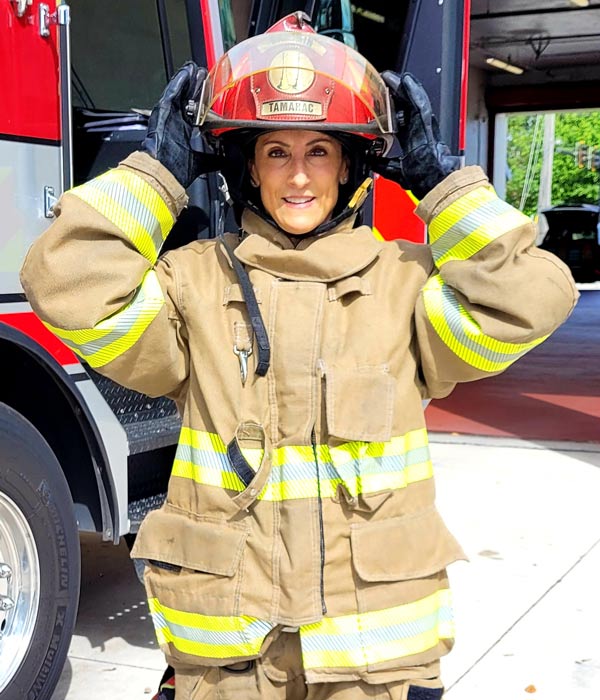 I Have Immeasurable Love & Respect for Our Service Men & Women
From all branches of the military: Army, Air Force, Navy, Marines, and Coast Guard, who dedicate their lives (literally) to the security and freedoms of our nation. Your Strength, Integrity, Endurance, and Commitment are unparalleled.
Further, AND as important and honored, are our First Responders!! Police, Fire Rescue, and EMTs work tirelessly to make our local communities safe. They run to the rescue to save us with as much strength and commitment as well. Without you, many more lives would be lost daily.
A special training day with firefighters gave me a unique perspective of how much equipment they already carry, even before they carry us to safety! They loaded ME up in their gear and helmet, with an oxygen tank, 100 ft hose, and a bag of picks & axes. I nearly toppled over! It was very humbling, to say the least!!
I Bless and Honor ALL of you!
Military-Level Gym Training
ELITE MaxPAC® Power, Core, and Velocity Training Exercises:
1. Aqua Box Jump Squats
2. Bosu Ball Loaded Ab Crunch (1 between quads and 1 press)
3. Aqua Fight/Partner Punch Drills
4. MaxPAC® Iron Ring Knee Squeeze Pull Ups
5. MaxPAC® Loaded Triceps Dips
6. MaxPAC® Decline Bench Ab Crunch with Single side Aqua Press
7. MaxPAC® TRX Suspended / Loaded PushUps
Schedule Your Consultation Today!